A ttorneys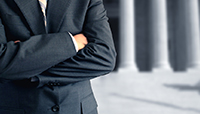 Jeffrey Kantowitz, Esq.

For more than 25 years, Mr. Kantowitz's practice has concentrated in the fields of land use law, Mount Laurel and affordable housing law, property law, and civil and appellate litigation. He has represented large and small private sector clients, including businesses, landowners, developers, and homeowners, and he has also counseled municipal entities. His work throughout the State of New Jersey has involved widespread practice at all levels of the New Jersey courts, the federal district court, municipal planning boards and zoning boards of adjustment, and administrative agencies in New Jersey, including the Council on Affordable Housing (COAH), and the Department of Environmental Protection (DEP). He has also argued before the New Jersey Supreme Court and the Appellate Division of the Superior Court.
Much of his work has involved advising landowners and developers on land use, zoning, and property-related issues, and working on development applications, including site plans, subdivisions, and variances before municipal boards. He has litigated extensively in the Superior Court cases involving land use law and open public records law, and he has litigated numerous cases in the New Jersey courts and COAH involving Mount Laurel and affordable housing law.
Mr. Kantowitz has also written and lectured extensively on land use law, Mount Laurel and affordable housing law, and New Jersey's Open Public Records Act (OPRA) and Open Public Meetings Act (OPMA).
Mr. Kantowitz combines experience and legal acumen found at large firms (where he formerly practiced) with a personalized, cost-effective approach not possible at larger offices.
Bar Admissions
New Jersey, 1982
New York, 1983
United States Supreme Court, 1988
Federal District Court, District of New Jersey, 1982
Federal District Court, Southern District of New York, 1999
Federal District Court, Eastern District of New York, 1999
Education
Harvard Law School, Cambridge, Massachusetts, J.D., 1982
Yeshiva University, New York, New York, B.A., 1979, Summa Cum Laude, Chemistry
Hebrew University of Jerusalem, Jerusalem, Israel, Walter D. Head Foundation Fellowship for International Understanding, Rotary International, 1983-84; studied Israeli law, land use and planning
Publications

Author, "Put Affordable Housing Back on Track," The Record, August 16, 2012 (Op-ed)

Co-author, "Back to the Drawing Board: The Shifting Fate of COAH," New Jersey Law Journal, November 10, 2010

Author, "Contrasting Approaches to the Open Public Records Act," New Jersey Law Journal, August 12, 2009

Author, "Plain Understandable English-Not Legal and Land Use Jargon - Required for Valid Notice," Builder/Architect Magazine (Northern New Jersey and South and Central Jersey editions), March 1997)

Author, "Tips for Successful Development Applications," Builder/Architect Magazine (Northern New Jersey and South and Central Jersey editions), May and June 1995

Author, "Identifying the Elusive 'Inherently Beneficial Use,'" 139 New Jersey Law Journal 1010, March 13, 1995

Co-author, New Jersey Land Use and Environmental Law, Chapter 12, "Zoning and Land-Use Litigation," Matthew Bender and Co., Inc. (1993)

Author, "In Practice: Land Use-Law, Builders, Towns Still Spar Over Meaning of Holmdel" 131 New Jersey Law Journal 683, June 29, 1992)

Reported Decisions

In re Adoption of N.J.A.C. 5:96 and 5:97 by the New Jersey Council on Affordable Housing, 215 N.J. 578 (2013)

In re Adoption of N.J.A.C. 5:96 and 5:97 by the New Jersey Council on Affordable Housing, 416 N.J. Super. 462 (App. Div. 2010)

Mason v. City of Hoboken, 196 N.J. 51 (2008)

In re Petition for Substantive Certification of Township of Montvale, 386 N.J. Super. 119 (App. Div. 2006)

In re Petition of Howell Township, Monmouth County, 371 N.J. Super. 167 (App. Div.), certif. denied, 182 N.J. Super. 140 (2004)

Elon Associates, L.L.C. v. Township of Howell, 370 N.J. Super. 475 (App. Div.), certif. denied, 182 N.J. 149 (2004)

Sod Farm Associates v. Township of Springfield, 366 N.J. Super. 116 (App. Div. 2004)

In re Public Service Electric & Gas Company, 167 N.J. 377 (2001), aff'g, 330 N.J. Super. 65 (App. Div. 2000)

Lincoln Heights Ass'n v. Township of Cranford Planning Board, 314 N.J. Super. 366 (Law Div. 1998), aff'd, 321 N.J. Super. 355 (App. Div. 1999), certif. denied, 162 N.J. 131 (1999)

Frank A. Greek & Sons, Inc. v. Tp. of South Brunswick, 257 N.J. Super. 94 (App. Div.), certif. denied, 130 N.J. 602 (1992)

J&A Realty v. City of Asbury Park, 763 F.Supp. 85 (D.N.J. 1991)

Memberships

New Jersey State Bar Association; Member: Land Use Law Section
New York State Bar Association