A reas of Practice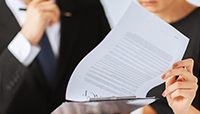 Business Organizations

There are various forms of business organizations available to those who wish to enter into a business venture in New York or New Jersey. We are experienced in preparing and filing all the required documents for a variety of business entities, including:


Sole proprietorships
Limited Partnerships
Limited Liability Partnerships
General Partnerships
Subchapter S Corporations
"Regular" "C" Corporations
Limited Liability Companies ("LLCs")
Not for Profit Organizations
Closely Held Businesses
Family Limited Partnerships

We are a detail-oriented law office who will analyze your situation carefully, point out available options and develop a plan of action to achieve your goals. No matter how complex your needs, our sole objective is to provide comprehensive and cost-effective solutions suited to your business goals. We will advise you on:


The advantages and disadvantages of forming a corporation or an LLC
The differences between a corporation and an LLC
The jurisdiction in which your business entity should be formed
The necessity of a registered agent
Ownership and management structures
The advantages and disadvantages of creating a C corporation or an S
We welcome the opportunity to discuss our business needs. Contact us today.