A reas of Practice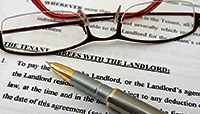 Landlord Tenant

The Law Office of Abe Rappaport has considerable expertise in the area of landlord tenant law. We are recognized and respected in the legal community for our knowledge and experience in residential and commercial evictions.

Our firm's landlord/tenant practice includes lease drafting and negotiation, rent collections, filing for eviction on all grounds provided for by statute (hold over actions and ejectment proceedings. CLICK HERE to view the New Jersey Statutes that authorize the commencement of eviction proceedings.
We maintain an active, extensive, and diverse landlord tenant practice, representing clients ranging from the individual owner to small and large apartment buildings and complexes, management companies, realtors, condominium (condo) associations, co-op boards, and commercial / industrial
park owners. We are intimately familiar with both state and federal laws
and procedures relating to properties managed, controlled or operated by the Department of Housing and Urban Development.
We assist our clients daily in the following activities:

Preparation and negotiation of residential and commercial leases,
policies, and rules and regulations
Prepare and file Summons and Complaints for eviction based upon
non-payment of rent
Prepare and serve eviction Notices to Cease and Notices to Quit with
demand for possession
Issue and request Executions on Warrants of Removal
Rent Control issues including appearances before rent control boards
DCA matters including building code violations, housing code
violations, and fire code matters
Instructing property managers in how to avoid legal pitfalls that
result in extended stays for problem tenants and those withholding rent
Advising clients of their legal rights and remedies in dealing with
problem residents
We also counsel owners and operators of residential housing projects that participate in the Section 8 rental subsidy program, and handle legal matters related to the administration of the Section 8 voucher program. Our experience includes complex tenancy matters involving bankruptcies, receiverships, Section 8, evictions for criminal or other unlawful activity, and breach of lease actions.

We offer our services for a flat fee or hourly depending on the matter.
If you are interested in putting our legal experience to work for you, please contact our office today for a FREE consultation (973)-785-1799 (Ext.
204) or by email us here.