A reas of Practice
Commercial Litigation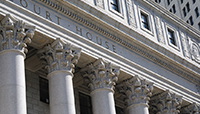 We focus on pursuing and defending civil lawsuits of all types. Our knowledge, experience and training in New Jersey litigation are evident to our clients as soon as we become involved in a case. We have represented companies in complex litigation matters and alternative dispute resolution proceedings across a broad range of industries. We are effective in virtually every type of general business litigation, including disputes regarding:


Contracts
Dissolution
Minority shareholders
Partnership Disputes
Foreclosure
Construction
Collections
Consumer fraud
Unfair competition
Real Estate


Our knowledge, experience and training in business and commercial law are supported by our proactive style. When handling a business dispute for a client, we do not promote unnecessary business litigation, but are mindful there are times engage in a legal battle and will do so if it is in the best interest of our client.

If you need legal representation in a civil lawsuit, contact us for a free consultation. Our staff will be happy to put their experience to work for you today.