A reas of Practice
Traffic Violations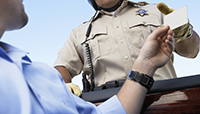 So you have gotten pulled over and been giving a speeding ticket. What do you do? Simply plead guilty and pay the fine, right? Wrong! You have OPTIONS!

The consequences of that ticket doesn't end with a simple payment. Tickets lead to New Jersey Motor Vehicle Commission (MVC) points. Points can lead to surcharges on your NJ drivers license in addition to increases to your auto insurance premiums. Points also often transfer to drivers with out-of-state licenses. Our office has a proven track record of reducing and/or eliminating these points from your driving record.

The services we provide include but are not limited to:


Reviewing your driver's abstract (a record of your driving history including violations).
FREE consultation to determine the best strategy to reduce or eliminate points. Whether this is your first ticket or you're on the verge of a license suspension, we will devise a strategy suited to your needs.
We accompany you to traffic court and represent you in front of the municipal court judge. Prior to your appearance before the judge we speak with the prosecutor about amending your ticket (information from your driver's abstract is used at this juncture).
We provide the convenience of paying our flat fee by credit card or debit card.
We handle the following violations:
Speeding
Careless Driving
Failure to Observe Traffic Signals
Failure to Stop Or Yield
Other Moving Violations
We offer our services in traffic court matters for a flat fee. There is no need to worry about expensive hourly attorney rates. CONTACT US at (974) 785-1799 FOR A
FREE CONSULTATION!