A reas of Practice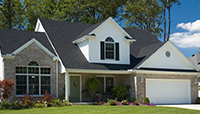 Residential Real Estate

We represent clients in all phases of the purchase, sale and refinancing of residential real estate. Buying a home is probably the most significant financial transaction you will undertake in your lifetime. We have the knowledge and expertise necessary to ensure that your purchase or sale goes smoothly with no surprises. We will help you with every step along the way.

Click Here for Real Estate FAQ

Real estate transactions have three (3) distinct phases:

1st: Involves the contract, where the parties negotiate the terms and conditions of the transaction.

2nd: The due diligence period or inspection phase. This is the period where the property and the state of the title are examined. Issues that arise during the inspection phase may include such simple matters as a leaky faucet that needs a washer, to more serious matters such as title defects, asbestos or a leaking oil tank.

3rd: The settlement or closing. This is when the transaction is concluded and the property is actually bought.

Legal fees for real estate closings in New York to New Jersey vary widely. We typically apply a standard flat fee for closings payable at the settlement. Out of pocket expenses are billed separately but they are charged based on what is invoiced to us. Some firms "pump up" the out of pocket portion of their fee. This is a practice we do not follow.

"You still have questions? Well, we have got answers!